INTRODUCTION FROM THE EDITOR OF COUNTRY LIVING MAGAZINE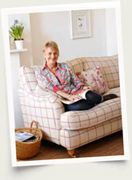 I am thrilled to announce the launch of our first range of Country Living furniture. Our collection includes four very different styles of sofas and chairs all handmade in Britain.
In this picture, I am sitting on the design called The Gower, and apart from looking gorgeous (the sofa, not me), I can promise you it is also very comfortable! All four ranges are available in a wide range of fabrics with complementary cushions available.
DFS is the perfect retailer for our treasured designs - with their 40-year heritage, DFS values great design and quality furniture just as much as we do at Country Living.


Now modern glamour comes with a great guarantee. It's the perfect finishing touch for each and every piece.

Handmade in Derbyshire - High quality manufacture with even more attention to detail.